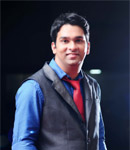 Krithivasan S
Associate Manager
Virtusa Consulting Services Pvt. Ltd
Krithivasan S currently leads the India campus hiring function for VirtusaPolaris. He has a decade of experience, mostly in campus hiring and branding. Prior to joining VirtusaPolaris, Krithivasan was with Merittrac Services, an assessment firm, where he handled campus hiring for major corporates and top government bodies. Post which he worked with Deloitte, where he played the role of HR Business Partner, which included handling performance management, R&R and other employee engagement activities.
In his current role at VirtusaPolaris, Krithivasan is responsible for the end-to-end gamut of campus hiring function for India, which besides recruitment includes corporate branding, mentorship and maintaining university relations through innovative initiatives.
He holds a master degree in HR from Symbiosis University, Pune. His interest includes travelling, interacting with people. He is passionate about helping new grads launch their careers and find their place within VirtusaPolaris.