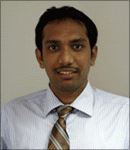 Sridhar Bollam
Vice President, Analytics
Capillary Technologies
Sridhar Bollam is currently the Vice President, Analytics at Capillary Technologies. He has been with the company for close to 2 years now.
Sridhar is an astute professional with a keen eye for trends in retail analytics, which is incidentally his forte. A graduate from IIT Kharagpur with a B.Tech in Electrical Engineering, Sridhar worked with Cequity Solutions as a Consultant and Analyst prior to joining Capillary.
Having been a key participant in the Electrical Engineering Society and IIT Kharagpur's Water Polo Team, Sridhar has also been an IIT Kharagpur Member of Fine Arts.
His hobbies include Swimming, Water Polo and Fine Arts.