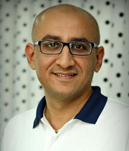 Mohammad Imthiaz
Starter & CEO
Y2CF digital Media Pvt. Ltd.
Imthiaz, or Imti as he's fondly known, is the starter (read: founder) of Y2CF. With a career spanning 14 years managing diverse business ventures and brands, Imti was last spearheading the VAS and new business incubation function at Bharti Airtel. Prior to that he spent 4 years living it up and managing key brands at United Breweries. Always a firm believer in the power of mobile, location and social media, Imti knows what the mobile can do, and is leading Y2CF's charge to create something WOW in this space.
About the Company:
Y2CF as a name comes from our philosophy that we will have Young (Y), Cool,Creative (2C) and Fun loving (F)people coming together to create & market WOW products.In a nutshell, Y2CF is a consumer products & marketing company, with focus on digital media. Our team comprises of experts from Brand Marketing, Mobile VAS, Product & Sales.