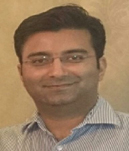 Mr. Ashish Mishra
Head - Talent Acquisition
Grey Orange India Private Limited
"At GreyOrange, we are helping companies make their warehouses better. Our products increase and maximize their supply chain potential by not only increasing their overall throughput but by also introducing advanced technology and innovation into their warehouses.
We are a team of technical minds, engineering experts, innovators and tinkerers, bringing unparalleled automation to the world's warehouses. People at GreyOrange come from different countries, cultures and diverse backgrounds with broad set of skills to take some of the toughest challenges head on. They work with innovation at its bleeding edge and are passionate about building long-term technologies designed to pioneer the field for the coming decades. Advanced intelligence, state-of-the-art engineering and unparalleled technology are at the core of GreyOrange's specialized products.
With the strength of cross-functional teams, we all are collaborators at heart. We support each other in learning and working, indulge in knowledge sharing, and have thoughtful discussions enabling us to develop strong ties with each other."