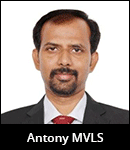 Sandip Mishra (Chief People Officer) & Antony MVLS (AVP- Delivery)
.
Prodapt Solutions Private Limited
Prodapt is a two-decade-old consulting & managed services provider, singularly focused on the telecom/DSP (digital service provider) ecosystem that helps clients transform their IT, products, operations, and networks to meet their strategic objectives. Prodapt provides end-to-end IT/software architecture consulting, application development, systems integration, testing, maintenance & support.