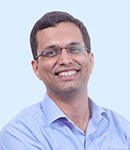 Mr. Aravind Irodi
Global Technology & Industry Practice Head
Attra Infotech Pvt Ltd
Aravind is responsible for developing service offerings to be taken to the market. Since joining Attra in 2006, He has worked in business analysis, program management, pre-sales, sales support, and business development before moving into his current role. Aravind had been responsible for Attra's market development in the America, prior to moving to a practices role.
"We are Attra.
And we make payments happen.
We're constantly looking for new ways to innovate, create, and trail blaze. We combine decades' worth of payment domain knowledge and technological expertise to give your business unmatched outcomes. Our team of over 2,000 associates are always looking for new ways to deliver payment solutions and transform your business."