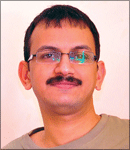 Santosh Kumar
Senior Faculty at Big Aims FC Road
B U Bhandari Edutainment
Santosh Kumar comes with over 9 years of rich and vivid experience in Animation and Visual Effects in varied roles as Creative/ 3D Lead Artist/3D Supervisor.
Known for his Team Spirit, Santosh spearheaded the 3D Digital Process wing at escotoonz entertainment ltd.(Escort's Group) and delivered 3D animation series named "Tiny Tots"
He moved to Reliance Animation as a lead character artist since then he has never looked back and lent his creative expertise to illustrious projects like Little krishna, Jr. bees, Venetacucin, Canon, Apollo Tyres, WHO, Old McDonald, Wedgits & AMW (Aisa Motor Works) & many more.
At present he is working with BIG AIMS as a Sr.3D Asset faculty. In his endeavor to constantly learn he ensures that his students discover something new every time they interact with him.