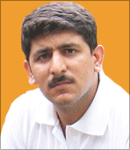 Pankaj Batra
Delivery Manager
SNS Technologies
Pankaj has over 14 years of experience in the software industry encompassing Software Design, Development, Testing, Deployment, Process Implementation, Project & Program Management.
He is responsible for the delivery and execution of projects at SNS. Additionally, he focuses on the development teams to keep up to date with the latest technological trends.
Prior to SNS, Pankaj was a Software Consultant at ZS Associates. Previously, he was a Project Manager at Infosys Technologies and also led the Product Development at Lightbulb Technology Partners.
Pankaj has a Bachelors degree in Computer Science from Pune Institute of Computer Technology, University of Pune, India. He is an active PMP since July 2005 an is also a certified Scrum Master.