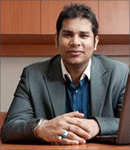 Saurabh Singh
National Head
Pearson TalentLens
Mr. Saurabh Singh heads the strategic TalentLens arm of Pearson with interests in Assessment, testing & consulting services. TalentLens is a part of, Pearson a global leader in publishing, education and developing and distributing assessment tools & services for recruitment, selection and development of the 21st century workforce.
Mr. Singh comes from an in-depth and expansive professional experience in the Assessment & Consulting industry since the inception of his career. His expertise lies in consulting, designing and developing solutions in the talent management space that provide an engagement and resolution of HR challenges across verticals and industries. His professional experience include the design, development and delivery of consulting assignments, notably in the domain of Competency Mapping, Person-Job Fitment analysis, Assessment/Development Centre and Diagnostic Organizational Mapping.
Mr Singh's past and current expertise in the service delivery sector is anchored in an extensive training in the use of assessment tools that are gold standards in the assessment industry. He is an authorized trainer for TalentLens assessments such as the Watson-Glaser Critical Thinking Appraisal (W-GCTA), a measure of critical thinking skills, is trained on Golden Personality Type Profiler – for leadership development, and a certified trainer for the SOSIE personality test, a TalentLens-owned internationally acclaimed test of personal values and workplace motivators, introduced in India for the first time. Mr Singh is also certified/trained in the administration and interpretation of several other globally used assessment consulting tools, including the Person Profile Analysis (PPA), Human Job Analysis (HJA), Test for Selection and Training (TST), 16 Personality Factors (16PF), ECHO, DIALOG, and Job Guide.