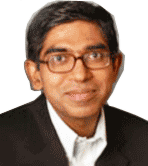 Naresh Gupta
Sr. Vice President, Print & Publishing Business Unit and Managing Director
Adobe Systems India Pvt. Ltd.
Dr. Naresh Gupta is a B. Tech in Computer Science from the Indian Institute of Technology, Kanpur, where he was named a Gold Medalist. He holds master's and doctorate degrees in computer science from the University of Maryland, College Park. He has been widely known as a computer science expert in the areas of shape, motion, image understanding, and AI research. His Ph.D. thesis, "Recovering Shape and Motion from a Sequence of Images," was nominated forthe ACM Distinguished Dissertation award.
Dr. Naresh Gupta is Managing Director of Adobe's India research and development center that he started from concept in 1997 and has since grown to be the second largest Adobe's R&D campus worldwide. Dr. Gupta is also responsible for the Print and Publishing Business Unit at Adobe. In this role, he oversees product marketing and development for Adobe's standalone print, Web publishing and e-learning tools.