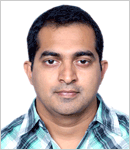 Mr. Praji C
HR Manager
Avenue Supermarts Limited
"Avenue Supermarts Ltd (ASL) owns and operates hypermarkets and supermarkets by the store name D-Mart.
D-Mart seeks to be a one-stop shopping destination for the entire family, meeting all their daily household needs. A wide selection of home utility products is offered, including foods, toiletries, beauty products, garments, kitchenware, bed and bath linen, home appliances and much more.
Since D-Mart first opened its doors in the Mumbai region in 2000, it has grown into a trusted and well-established shopping destination in Maharashtra, Gujarat, Andhra Pradesh, Madhya Pradesh, Karnataka, Telangana and Chhattisgarh D-Mart is now looking forward to growing its stores across India.
"