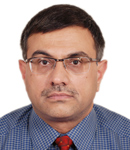 Sidharath Tuli
Group President - HR
Punj Lloyd Ltd
Mr. Sidharath Tuli is a very experienced Human Resources Executive who has worked for major Indian and multi national organizations across a range of industries including Cement, Oil and Gas and food/consumer manufacturing and distribution. In his past assignment, he has worked with Unilever, Reckitt Benckiser and ONGC.
His experience includes capability building, talent management, performance management systems, mergers and acquisition, industrial relations, manpower planning and restructuring, international compensation & benefits.
He joined Punj Lloyd as President – HR. Subsequently he did a business stint and was Head of Project Services which includes Procurement, Bidding & Estimation, Human Resources, Contracts, QA-QC and Safety. He is currently Group President – Human Resources.
He holds a Masters of Management Studies from Birla Institute of Technology and Science, Pilani, Rajasthan. He is also a Chevening Scholar.